Description
Name of the Location: Khandoba Temple, Shegud
Greatness of the Location: Out of the 12 Malhar Mandir in the country, one of them is situated in Shegud
Type of Place: Temple
Information: Earlier, there was a forest called Shegud. In this forest, a devotee was able to visualise that God has said that "I am here" in a sandal tree. With the help of plough and other agricultural equipment the devotee removed the Kandoba Idol from the tree.  A few years later, a jagirdar named Shri. Punde restored the temple here. He built the temple and a strong stone wall compound around the temple.
The temple, which was here since 350 years ago, is spread over 2 to 3 acres and it has a place for surveillance and can be accessed for safety. There is a grand entrance on the north side of the embankment and it has the effect of architectural style as well as carved with an inscription. The text on the wall reads as "the embankment was constructed on Vijayadashmi." A Mahapravesh Gate is at the back of the embankment and the temple (to the south) is opened only on Somvati Amavasse.
As you enter the main courtyard, a grand lampstand is seen in front of you, and in front of it is the main assembly hall. The characteristic of these beautiful stone lampstands here is that the lighting of these lamps shines brightly in every festival, adding to the beauty of the temple and adds to the beauty of the temple. Inside the Mahadwar, on the left there is stone well where there are steps to get in, which has water, used only for God.
As you enter embrace, you see a beautiful meeting room and a large brass bell and feel the serenity in the cellar. There are many temples around the shoreline around the temple. Likewise, at the south gate there is a horse and a chariot which was once used by Khanderaya.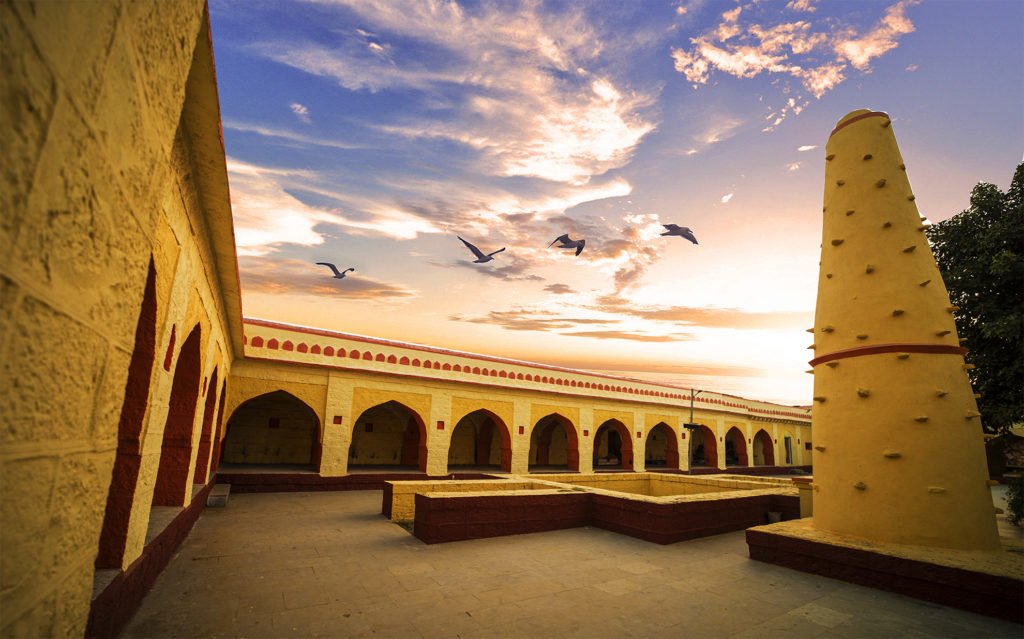 The main embrace that is, the main assembly, we see a beautiful and attractive statue of Khandraya, with Mhalsa Devi on the left and Banu Devi on the right. The temples of this temple are high and the statues of Navadurga and Navnath are carved.
Jejuri, Pali, Shegud, Dhavdi Nimgaon, Satare (Aurangabad), Malegaon (Nanded), Naldurg – Andur (Osmanabad) are situated in Maharashtra and Bidar Adimalhar, Devarguda, Mangsundali, Mailal, Bhelarsingh are based in Karnataka. India comprises of 12 Malhar's out of which one is Shegud's Kandoba Mandir is situated is in Karjat and Jamkhed.  
Festivals / Celebrations:
Margashi Purnima – On Dutta Jayanti Chabina leaves, the horse is decorated as Gods Idol is placed over it.
Vijayadasami Simolangan
Chaitra Purnima – Hanuman Jayanti also Jagran Gondhal is on the same day
Somwati Amavasya
Champashti – Avatar Day
Local Features:
This is the last village in Ahmednagar district and then the Solapur district starts, next to it.
In the village of Shegud, no one uses a mattress to sleep in the countryside as God used to use the mattress
Also, this temple of God is two storey and so no one builds a two storey house in the rest of the village.
The Shrimp tree in the courtyard of the temple is said to be about 125 years old.
Bhel is a popular food snack which is famous in this village
Photos